summer rates have arrived
For the summer period, come and enjoy the indoor courts at reduced prices.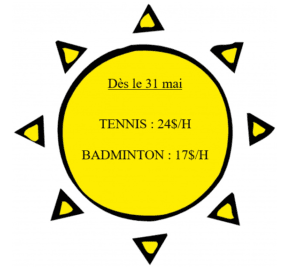 Our summer opening hours are :
Monday to Friday from 7:00 am to 9:00 pm
Saturday and Sunday from 9:00 am to 5:00 pm
Good news, the practice of squash and racquetball are now allowed.  Click on the link below for instructions.
http://www.squash.qc.ca/wp-content/uploads/2021/05/relance28mai2021SQ-en.pdf
Depending on the epidemiological situation ans vaccination coverage, the government wishes to achieve certain objetives. Click on the link below to see the umcoming eases in tages if the goals are met.
I
A little reminder on current health measures :
Tennis and badminton are allowed in free practice in singles or doubles
Wearing a single-use or washable face cover is mandatory for anyone aged 10 and over inside the Longueuil Sports Complex and must be worn at all times when you move around the building
Maintain social distancing of at least 1 meter inside the building
The player must disinfect their hands before entering the entrance door to the reception area
Although several hand sanitizer stations are installed in the Complex, it is the player's responsibility to ensure that they have hand sanitizer with them.
The player should not be present at the scene if they are experiencing symptoms similar to COVID-19
Prioritize the filling of gourds at home, if this is not possible water fountains are available
Changing rooms, showers and toilets are accessible.  Sauna are closed.
Notify the management of Complexe Sportif Longueuil if a case of COVID-19 occurs among the players who have used our facilities.
We ask people to arrive a maximum of 10 minutes before their playing time and to leave immediately after playing time.
In order to limit crossings on the courts, those who end their playing time must complete their point and start stowing their effects at the sound of the first bell at XX: 55 and leave the field BEFORE XX: 00. Entrance to the grounds is at XX: 00. In badminton, racquetball and squash, entry is at XX: 30 and the last point and collection of personal effects is at XX: 25 for leaving the field BEFORE XX: 30
For private and group lessons, leagues and organized games supervised by coaches (RACKET SPORTS)
Supervised group activities (internship, courses or lessons, leagues, camps, etc.) will be allowed from june 14 (if the flexibilites take place as planned)
Private lessons are allowed
Competitions, organized games and spectators are prohibited;
For hockey players
Team sports games are not allowed; will be allowed from june 28 (if the flexibilites take place as planned)
Sport-hockey studies and concentrations are authorized, in organized practice or in training only, while respecting the strict application of distancing measures and the absence of contact between people (Only one stable class group allowed)
For RESTO/BAR customers
RESTO – BAR CLOSED until further notice
References :
Gouvernement du Québec
Tennis Québec
Fédération des sports à Quatre-murs du Québec
Hockey Québec
Association des restaurateurs du Québec
If you want to be advise when the complexe will reopen, subscribe to our newsletter and you will recevie an e-mail notification.
https://complexesportiflongueuil.com/en/newsletter/
EVERYONE WELCOME!
Finally, the perfect solution for tennis players! Quality facilities worthy of the best private clubs, accessible to everyone!
No membership subscription
No monthly fees
One access card
Simply book a court
Fees for guests only
An ideal solution, whether you are a casual, regular or avid tennis player!
New!
« Like » our Facebook page to be eligible to exclusif offers on court rentals and to be aware of all the activities offered.